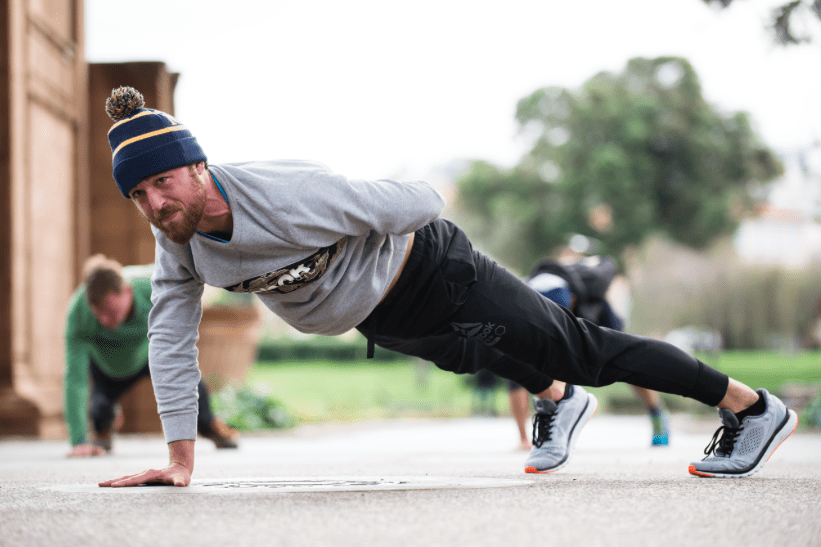 "To be an athlete, you must think, feel, and live like one." – Nate Helming with The Run Experience
Growing up Nathan was involved in sailing and traditional team sports. His first memory as an athlete is of playing goalie for a local soccer team at age 6, with his dad on the sidelines cheering him on and coaching him. When Nathan failed to make the varsity soccer team in high school, he shifted gears into endurance sports, starting with cross-country, marathons, and eventually ultramarathons and triathlons.
Even though Nathan was setting good times in training and racing, he never considered himself an athlete. In Boston, being an athlete meant that you played a ball sport such as football or baseball. After one of his races, he went to a local running shoe store and bought himself a Nike running hat. Once he put that hat on, he started feeling like an athlete and eventually realized that to be an athlete, you must think, feel, and live like one.
Nathan moved to San Francisco and worked at a sporting goods store and as a physical therapy aid to sponsor his training and racing, and he earned a spot at the Ironman World Championships in Kona, Hawaii. Unfortunately, a nagging hamstring became an injury and left him on the sidelines. As he consulted with orthopedic surgeons, physical therapists, and chiropractors on how to heal his hamstring, he grew desperate when nobody could give him a straight answer to solve his problem. After Nathan ran out of funds to cover his treatment, a local strength and conditioning coach who specialized in endurance athletes decided to pick him up as a client for free to train and mentor him.
It was when he performed a deadlift for the first time that the light bulb went off for Nathan. His hamstring felt like it had started to wake up, and shortly thereafter he was back to competing and feeling stronger than ever. In addition to competing, he now has a private practice as a strength and conditioning coach and has developed The Run Experience – an online training platform and community that specializes in running.
Nathan's experience as a high-level competitor, his passion and enthusiasm to provide the endurance community with solutions to improve performance, and his ability to collaborate with innovative thinkers to challenge his ideas and philosophy on a daily basis have made him a force and an inspiration to coaches and athletes around the world.
"I don't know, but I can figure it out" – Nate Helming
why strength and conditioning?
After having to back out of competing at the Ironman World Championships in Kona due to a nagging hamstring injury and not getting a clear answer from my doctors and physical therapists, through strength and conditioning I healed, relearned what it meant to be an athlete, and came back stronger than ever before. Ever since, I have been committed to collaborating with other coaches in the field to help make all endurance athletes in the world more resilient.
what makes a professional coach?
It is very similar to being a professional in a lot of other spheres. You have to have passion, experience, and knowledge. You must live in a constant state of growth, where being comfortable with uncertainty and being able to say, "I don't know, but I can figure it out," is normal. This state of uncertainty is where you start developing your theories and philosophy and come up with universal solutions that can benefit everyone.
3 focuses of your practice:
Posture, by developing the form required to spend long periods working really hard in one position.
Strength and mobility, by challenging fundamental movements from a load and speed perspective in addition to helping athletes achieve the positions required for those movements.
Gymnastics, by developing basic tumbling skills to better understand the body and space and give athletes an exit strategy in case of a fall while riding a bike or even performing a flip turn during swim practice and competition.
3 benefits of strength and conditioning:
Fun. This is like recess for adults; it's a time to play and discover what their bodies can do.
Injury healing and prevention. Through training I can teach athletes how to find what is missing in their performance and how to build it back up.
Through strength and conditioning I can make all movement relevant and help athletes understand how all human movement connects and translates to their specific goals.
Make sure to follow Nate Helming and The Run Experience on Instagram, Facebook, and Twitter and Subscribe to their Youtube Channel which is pumping out practical content consistently several times a week.