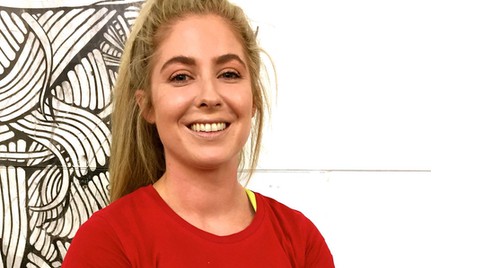 Lydia Barrington
My name is Lydia Barrington, I am based in middle earth, Wellington, New Zealand. I started my coaching journey in 2012, when I decided to leave the hairdressing trade after realizing my true calling. I studied towards my Bachelor of Health Science, majoring In Sport and Exercise Science and I worked part time as a Fitness instructor and Personal Trainer. In 2015, I began interning at CrossFit Central Wellington where I earned a spot on the coaching team and have been proudly practicing my craft as a CrossFit Level 2 Coach to this day.
I attended a Freestyle Connection Seminar with Carl Paoli and Daniel Severin Petersen in 2017 and my attendance and connection with these two epic humans was a game changer. Ever since I have been a student of Freestyle and I have levelled up beyond the physical movement practice with the guidance, support, and mentorship from both Carl and Daniel.
Since then, I have dabbled, and continue to train and practice many different disciplines which exposes me to different skill sets, methods and approaches to training and life. I continue to practice levelling up my mindset, self-development, understanding, awareness, movement and my craft on the daily with the intentions to share with you my learnings and experiences.
My purpose as a coach is to make a special connection with you and facilitate you to level up physically, mentally, emotionally and spiritually. I will do this by providing you, the tools and strategies, guidance, support, mentorship and experiences so you are able to empower yourself and grow as a person and as an athlete.
I am beyond excited to be officially apart of Team Freestyle, where I will show up for you daily, to share my passion, love, positive energy and knowledge with you epic humans to help you live your best life. As a coach, the feelings I experience on the daily are beyond words. My heart is full working with amazing humans who allow me to be a part of their fitness journey, and I cannot wait to be a part of yours.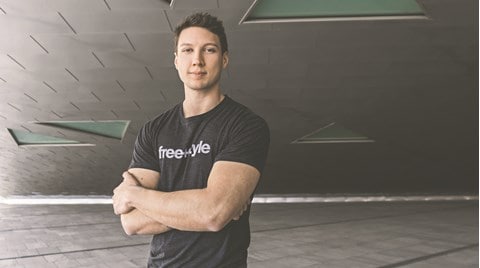 Daniel Severin
Daniel the Dane has been exploring and training in a range of sports and different movement disciplines, chief among them martial arts, gymnastics, and CrossFit. Through personal experience and exposure, Daniel has fully embraced the Freestyle philosophy and has a passion for growing people's self-development through movement. Where once doing a handstand was impossible for him, he's now able to help others develop their practice on a physical and mental level and this is something he cares deeply about passing on to others. Daniel holds several movement and training certifications.
Freestyle Connection Founder
Carl Paoli
I was born in the United States and grew up in Spain where my passion for physical activity led me to delve into action sports such as snowboarding, skiing, wakeboarding, waterskiing, and karate. It was my love for gymnastics that shaped my discipline for hard work, determination, and my professional career. I became an elite gymnast in Spain where I trained and competed on the national circuit for more than fifteen years.
Throughout my gymnastics career I received numerous accolades, including a National Gold Medal for Vault. I also studied environmental science at Universidad Miguel Hernandez and specialized in genetic engineering and coral reef ecology.
After university, I returned to the U.S. to pursue a career in marine biology. Even though I found work that related to my studies, my mind never strayed far from my love of sport and fitness. I reentered the world of gymnastics in 2004 in San Francisco, where I live and work creating educational content on YouTube for athletes and movers of all levels.
In November of 2010 I launched GymnasticsWOD.com, one of the largest online resources for gymnastics­ movement training and conditioning for CrossFit coaches and athletes. I have coached thousands of athletes around the world through the GymnasticsWOD website and by way of my Freestyle Connection seminars. In 2011 I was part of the coaching team for Annie Thorisdottir, who went on to become the first two-­time winner of the CrossFit Games in 2011 and 2012. In July of 2014 I published my first book, FREESTYLE, which went on to become a New York Times Best Seller in the Sports Category. Later that year I invested in STR/KE MVMNT and operate as the Global Ambassador for the brand.
I continue to live in San Francisco with my beautiful wife and adopted daughter.