I first became aware of Breaking through my older brother in the mid-80s. He would do backspins, and that was the coolest thing I ever saw.
Later, when I got into gymnastics in the 90s, I started learning more about Breaking through a few martial artists who had picked up Breaking and would come around our training facilities to practice acrobatics that they could incorporate into their dance. I was curious enough that I went to a few of the practice sessions they held outside an old train station in my hometown. I tried a few moves, ended up bruised up, and after a few sessions, I quit and stuck with gymnastics.
Fast forward to the early 2000s, while living in San Francisco, I met some members of the @renegaderockers crew. That's when it became apparent that Breaking had evolved beyond what I imagined since I last saw it in the 90s. I was mesmerized by their movement capacity and musicality.
One day, the breakers came to me and asked if I would train them to prepare for R16, an international event in South Korea where the Renegades Crew would be representing the USA. So I did, I went to Incheon, and my brain exploded. I knew at that moment that everything I would do in my career would include the principles and essence of Breaking—a community of hybrid artist-athletes with all the ingredients to change the landscape of human movement and sport.
After Korea, I came home to San Francisco and got to work. I started learning to Break (not well, but I tried), and I started developing a Breaking academy app. I put effort into getting the Breakers exposure in untapped spaces such as the CrossFit scene. I also co-organized and funded a 2-on-2 battle with a significant cash prize. I even named my Seminar Freestyle because of the influence of Breaking, which propelled my book onto the New York Times bestselling list.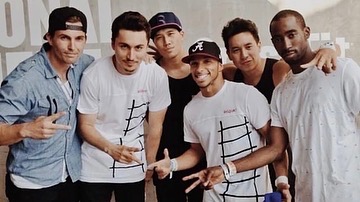 Seven months ago, almost 15 years after I went to Korea, I got another call from my friend @bboywicket, who originally asked me to prepare the Breakers for R16 back in 2008-9. He told me that Breaking was going to the Olympics and asked if I would be available to be an advisor to the coaches and USA-breaking hopefuls.
My answer: I'm in!
I'm humbled and honored to witness the unfolding, and I can't wait for the world to see the magic the Breaking Community has to offer.