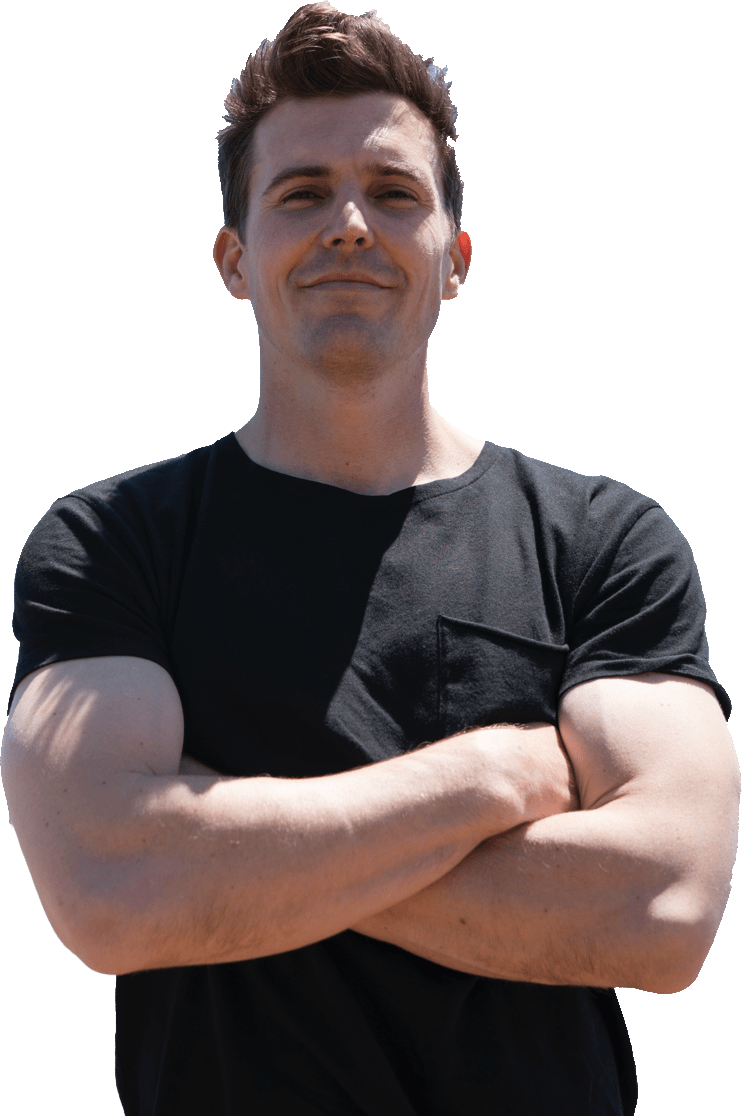 NOTHING — nothing is wrong with you.
Here's what's wrong...
What's wrong is you were lead to believe

"you need to be able to do 5 pull-ups and dips before you can do a muscle-up."

What's wrong is the countless drills

that are the same and don't challenge you enough because they don't work with how you move.
Hundreds of them bought into the idea that they needed to do 5 pull-ups and dips...
in fact, they were so caught up in this idea to reach these numbers, they stopped practicing the muscle up movement completely.
But, by the end of the seminar, I helped them reconnect the movement needed in the 5 phases of the muscle-up, and they got on top of the rings, without achieving these arbitrary strength numbers.
Now, don't get me wrong, muscle ups require some strength, but you also need to connect your strength and synchronize it all in a movement that happens in less than a second.
So here's the truth from seeing it and teaching it to more than 20,050 people...
Strength is only one small piece of the puzzle and without training a bigger piece of the puzzle is the real reason why everyone gets stuck doing the same drill over and over again until it becomes easy… but still can't finish getting through the rings into the catch, or get their hips high up to the rings.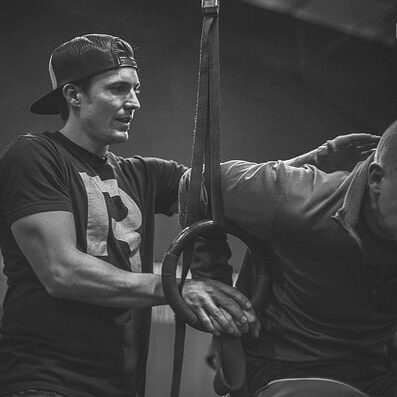 … The real reason why you can't get a muscle up is… you haven't discovered the

body shapes

you make in the 5 phases of the muscle-up, then connecting it together with

movement pattern
Movement pattern strength is what allows you to transition from below the rings to above the rings.
Movement pattern strength is not the same strength used on a deadlift, Olympic lift, or even strict pull-ups. It's different from lifting a bar and strict strength movements those can be a 1-2-3 progression.
The muscle up is a different type of exercise because you're up in the air hanging on the rings where you need the awareness of when and how your body needs to connect each body shape throughout the 5 phases of the muscle-up in less than a second.
And there's an infinite number of ways you can train movement pattern strength because there's an infinite number of ways people move when making different body shapes throughout the muscle-up.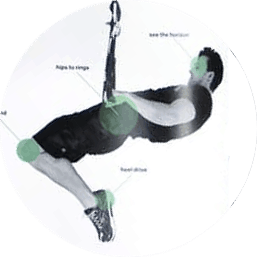 What's the best way for you to train based on where you're at now?
I'll show you, but first I have an odd question to ask you...
Do your shoes fit?
What was the first thing you looked for the last time you bought a pair of shoes ?
Probably the style, right? You were drawn to the style that suited you first.
Then, when you grabbed the shoe off the shelf, you asked if they had your shoe size.
Here's why this is important:
We all have different bodies right?
No 2 people are built the same, and we all have different strengths and weaknesses.
So to say you must do these strength numbers, or you must do these drills is trying to fit one style, and one size of shoe on everyone.
You deserve a training program designed around your strengths and your weaknesses — not someone else's.
Your previous muscle up training hasn't worked because it was built around someone else's shoe size and style.. not yours...
Stop wearing shoes that don't fit.
And quit wearing a style that doesn't go with who you are.
So how do you find a training program that fits you?
Over the past decade, I've seen and helped thousands of everyday athletes and local competitors get their first muscle up and perfect their muscle up. You could argue, no one knows how to train the muscle up more efficiently than I do.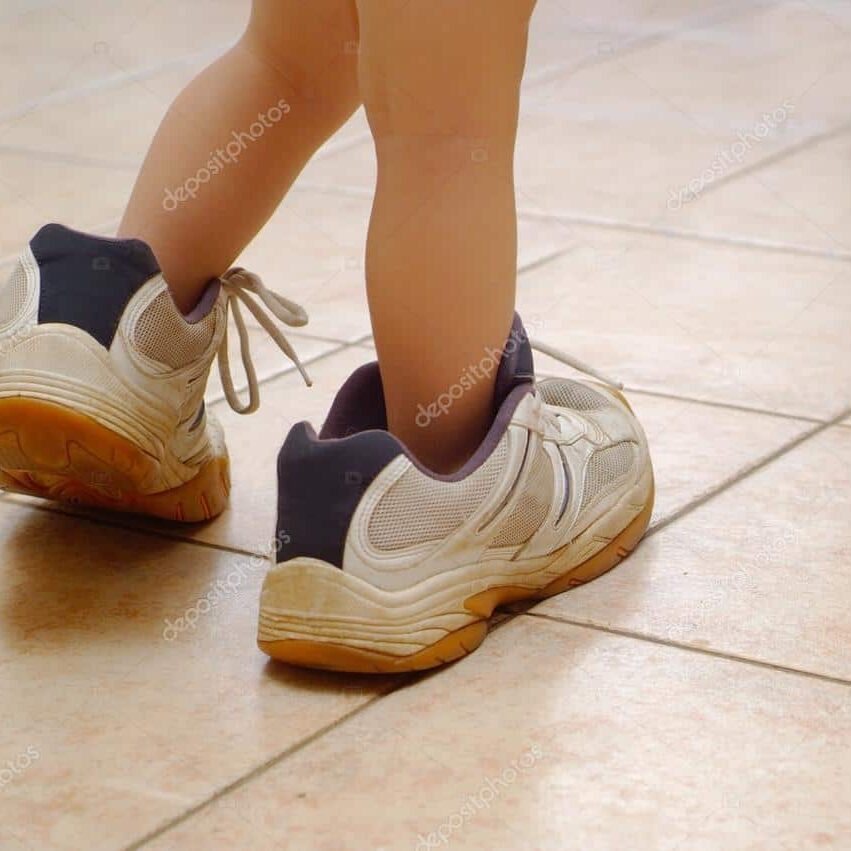 Introducing the
4 week Muscle Up Master Program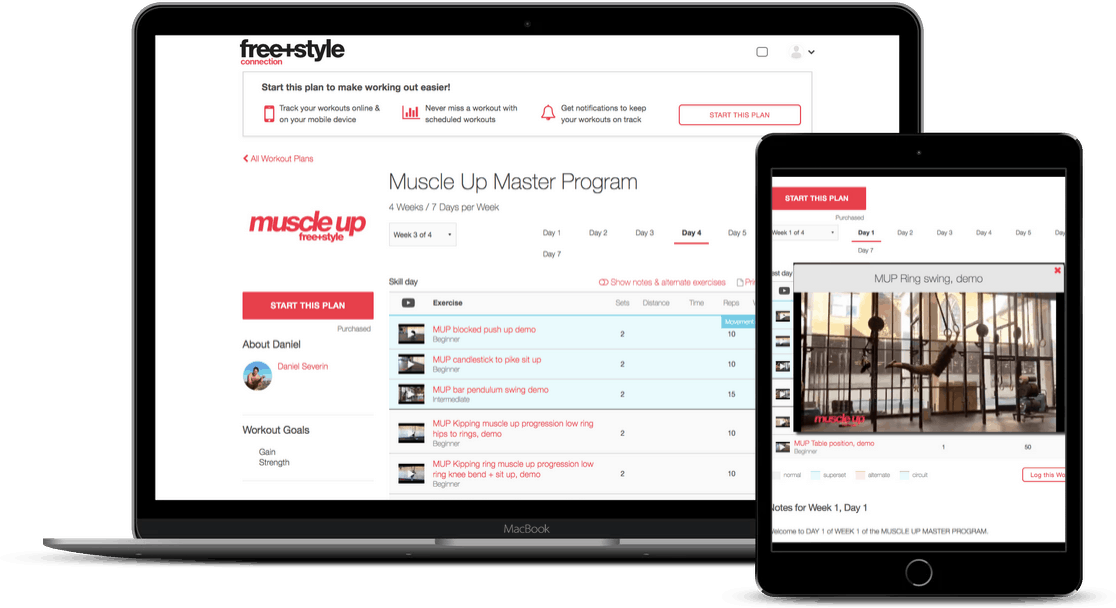 Many people have reached out to me asking me to come to their gym and do a muscle-up Program. Ultimately, there's only so much time. I can't be everywhere…
Since so many people have asked, I designed the Muscle Up Master Program for you.
You'll get my years of insights in watching thousands of different people move simplified into a program designed in helping you discover what drills are best for you. Plus, you'll get access to my coaching team and me in our private Facebook group.
Now, this isn't just another set of videos giving you the same training drills you've gotten from your coach, YouTube, or CrossFit Gymnastics, etc…
Because I get it! You might have been trying for the last 3 months (or maybe even a year) with crawling success. So recycled information that was taught from the same people with the same perspective will not respect how you move in your own way to get on top of the rings.
So many people move differently based on their background or what they've trained themselves into. There is an infinite number of shapes that people make when attempting the muscle-up or doing the muscle up.
The Muscle-up Master Program uses my  Infinite Progression System  where I've selected the most relatable, transferable, and impactful drills through my decades of teaching and coaching.
And once you get your muscle up or if you have one, and you're looking to make it more efficient and less tiresome after 5-7 in a row, the system allows you to become better by adding it to your workout plan.
This program is designed to work into making you infinitely better no matter what stage you're at in the muscle up. Period.
The Problem With Today's Muscle up Advice...
Here's the typical scenario...
When most people try to train for a muscle up, they train dips, pull-ups, and maybe some ring transitions with a dash of hollow rocks. Those things are fine to train when you're just starting… but it leaves you at that phase. Start.
There is a much better way to move from "starting" to finally getting it!
And the best way to train for a muscle up... is to train the body shapes you need to make during the transitions, and then train your body how to synchronize the transitions by building your movement pattern strength.
Because without knowing the body shapes, you won't know what to do at each muscle-up phase or how your body can make the shapes.
And without movement pattern strength, you don't know how to create natural power to connect it all seamlessly.
I call them body shapes because they are the shape your body makes during the muscle up movement, which also mimics shapes you do in your life and in a class WOD. (like… sitting on the toilet doing a #2 with your elbows on your knees is the same shape as the "catch" position.)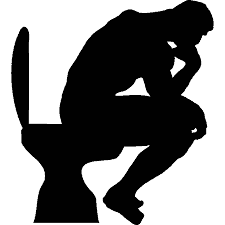 Muscle Up Mastery Simplifies It So You Connect The Shapes For Each Muscle Up Phase
Here are the 5 phases that muscle-up mastery works in helping you discover how you create these specific body shapes.
01. The Hanging Phase

This is the most important part of the phase because if you don't know how to grip the rings properly, it throws off all the natural power you can generate when you start the swing phase.

Most competitive AND everyday athletes skip this portion and go right to the swinging phase. Then they can't get enough height to transition because they can't generate power. They can't generate power because they're missing a strong and sturdy pole body shape.

In the Muscle-up Mastery Program, you'll learn how to grip the rings properly and how to train the strength to hang onto the rings so you maintain control and generate power using your body without brute force strength.

02. The Swing Phase

Most people jump up on the rings and start swinging. They think they need a massive swing so they can generate momentum for power. This is completely wrong. All the swinging phase consists of is 2 body shapes. The Arch and the Hollow Body Shape.

Most coaches might tell you this but the "how" to do it is a different story because of poor movement pattern strength to create these shapes… OR… some people might have some mobility restrictions which require another set of drills so they can create those shapes naturally.

03. The Second Kip

The most controversial phase in the muscle-up community. Most say "do not thrust your hips up," but if you've done the swing correctly, this is the next natural position to do it (... as natural as the basic life movement of the pelvis thrust.)

Where you thrust your hips is where your body follows, then it's a matter of creating that shape. In this case, it's the "upside-down arch," and from this position, you'll need to learn how to generate the natural power training your body to time your legs with your hips to move you through to the catch.

04. The Slingshot

Before you get into the catch, this is where you create the power of a natural slingshot by synchronizing your legs to bend to move based on where your hip position is as you move up towards the rings. Most programs miss telling you the timing on this.

05. The Catch

While most programs focus on getting to this position, then have you quickly dip out so you can finish it. This is completely wrong and WHY people fall through the rings.

Because you've done all the hard work in the past 4 phases, you don't want it to all go to waste so you want to stabilize your catch with the "Tuck-Dip Body Shape". After the slingshot, you want to create the tuck-dip body shape as quick as possible to stabilize getting through the rings. This is the final phase before you dip out to sweet success, so it's a shape not taken lightly.

Now that you know the 5 phases, let's break down how and what it looks like working together inside the program.
Now that you know the 5 phases, let's break down how and what it looks like working together inside the program.
When You Enroll Into The Muscle Up Mastery Program You'll Discover...
A workout program designed with the goal of working your

movement pattern strength

Direct feedback

for you from myself or one of my trained coaches

Exercises and drills to make the

5 core body shapes

stronger and link together

A

mobile app

with your workout and demo videos you can access while your on the gym floor

Demo videos

broken down in mobility, strength, and technical accompanied with "why" videos for each exercise so you don't do drills blindly

The

perspective on how to be your own coach

and self-correct your movements, removing any doubt about what you should be working on

Exactly how quickly you should progress and how often you should train based on where you are right now
I can only show you the way over the rings - you're the one who has to pull yourself up.
At this point you have a choice - you can get the Muscle up Program, or you can keep doing what you've been doing.
If you do decide to get the course and start doing the program a minimum 3x a week here's what you can expect in...
7 Days...
After the first week, you're going to feel like you have more control of your body. You'll be able to feel a better connection between your brain and your body. You'll be able to move yourself better. You're probably still going to have some pain and soreness in your shoulders.
Your hands are going to feel like they are swelling and feel thicker. The foundation of the muscle up starts with your hands. This is you getting stronger.
You've learned how to self assess your movements, so you can become your own coach and create a rock solid foundation for your muscle-up.
14 days...
This is where most people just quit…
You'll probably feel like you're regressing - this is normal because you're pushing your body to the limit. You're firing on all cylinders with both your mind and body. Your mind is learning new movement patterns, and your body is performing them.
This is probably happening at a higher level than you've previously trained. You might feel like your walking through sludge. Everything will feel heavy because you've completely fatigued both your mind and body.
It's much easier to keep pushing through if you know this is going to happen in advance. (that's why you get the bonus video training "Mental Path To The Muscle Up" a $49 included in this program.)
21 days...
This is where you can finally see the light at the end of the tunnel. You're going to be much less fatigued and have more stamina. You're going to notice the difference not just in your muscle-up training but in other core workouts.
Your deadlift and snatch are going to be easier to perform.
Here's Exactly What You Get In Muscle Up Mastery
A 4-week progressive program ($225 value)

where you determine the schedule of your Muscle-up workouts

A library of demo videos ($150 value)

 In the program it is accompanied by videos on mobility, strength and technique in many variations for people who move infinitely different.

Mobile Freestyle App ($30 value)

Quickly and easily access training videos from anywhere via your Android or iOS device

Facebook coaching group ($300 value)

where you can interact with other members and get live feedback from me and my trained coaches – no cookie-cutter answers, it's a live Q & A forum

Interactive Video Feedback ( $300 value)

from a Carl-trained coach or myself – film yourself, send in the video, and get feedback quickly
Bonuses
Make Your Muscle Up Journey Faster… You'll Also Get $335 Worth Of Bonuses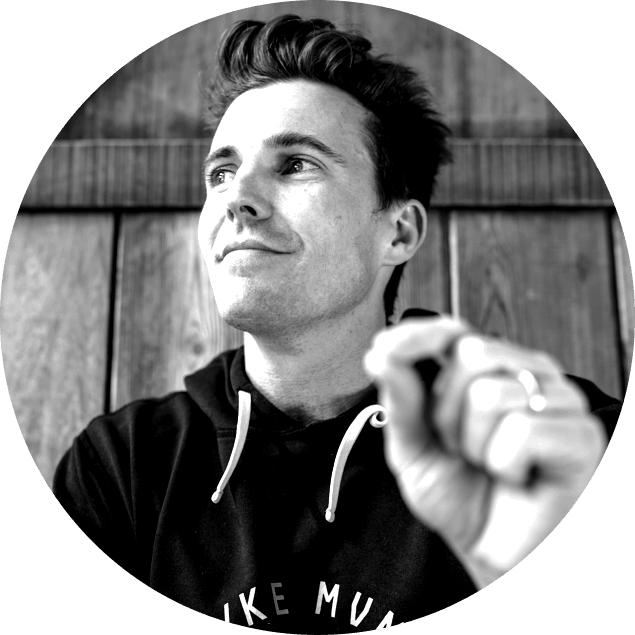 Bonus 01
Mental Path To The Muscle Up: Closing the mental gap and stick with it even when it's hard
Pulling yourself over the rings is hard — it's even harder when you really don't feel like doing it and want to give up on your training
Video training will help you get into the right mindset and get you through the hard stuff
VALUE: $49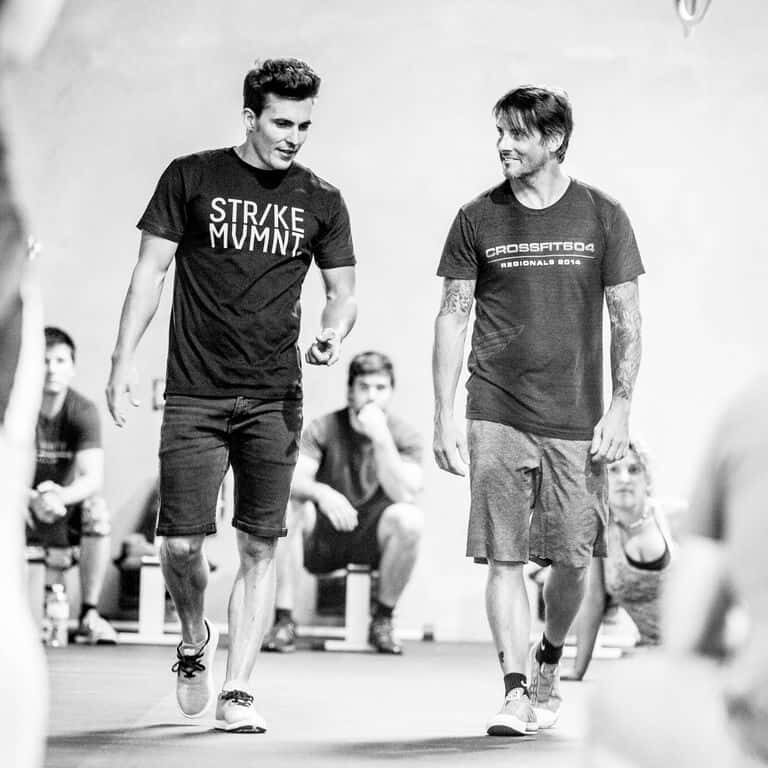 Bonus 02
How to train or be the perfect training partner 3-part video series
Learn the right way to spot someone during a muscle up on the high rings, low rings and helping them make the transitions to each body shape.
The more confident you are, the safer it is to spot someone.
VALUE: $150
Bonus 03
Fast Track Guide For Competitors
Mindset when it comes to training muscle ups for competition
How to approach a muscle-up to get the most reps before dropping down
Fatigue control in competition
Discover the body shapes you make in competition and self-correct
VALUE: $150
The price of the Program + Bonuses are worth $1,340
The value from years of hands-on experience teaching people from all walks of life is $1,340. However, I know lots of athletes struggle to get the muscle up, and I want to make this available to anyone who is willing to take a new perspective and get the word out there to anyone else is struggling with false beliefs.